About Our Friendly Paddington Dental Practice
Red Hill Dental is a multi-award-winning dental practice that was established in Red Hill in 2008. After exceptional growth, we re-located our premises in 2013 to the heart of Paddington, just a short walk from the iconic Suncorp Stadium.
Our modern and beautifully-designed practice is both warm and welcoming. We pride ourselves on providing a comfortable, relaxing, and safe environment for our patients, whilst committing to an exceptionally high standard of dentistry that you just won't find elsewhere!

The Red Hill Dental Difference
It is our mission to help patients not only to improve, but also understand their oral health. We achieve this through the gentle and customised service we provide, along with the way in which we develop long-term relationships with our patients built on trust and exceptional service. At Red Hill Dental, we always strive to be upfront with our patients regarding what their treatment entails and take the time to carefully address any questions or concerns they may have. We love changing people's mindsets about visiting the dentist, turning their experiences into ones that are positive and professional.

Awards and Acknowledgments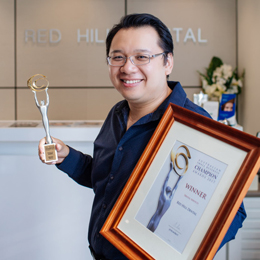 Red Hill Dental is a proud winner of the Australian Small Business Champion Awards in 2017. We are also extremely grateful to have had our exceptional dental services recognised through the following awards and acknowledgements:
Winner of the Australian Small Business Champion Awards 2017
Finalist of the Australian Small Business Champion Awards 2013 – 2020
Prime Practice Award for excellence in leadership, management and the provision of exceptional dental care to the community 2017
Winner of the Australian Excellence Awards 2013
QuestNews Hall of Fame in Health Care Services 2011
QuestNews Business Achiever Awards 2009 – 2011
National Safety and Quality Healthcare Standards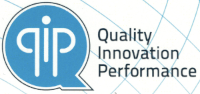 We are registered for accreditation against the National Safety and Quality Healthcare Standards applicable to dentistry delivered by Quality Innovation Performance (QIP).
Comprehensive General and Cosmetic Dental Services
Thanks to our team's extensive experience, training, and qualifications across many fields of dentistry, we are able to provide high-quality dental care to our patients. Along with offering general and restorative dental services, we also have a strong focus on providing advanced cosmetic dentistry such as Digital Dental Implants, Smile Makeovers, Pinhole Gum Rejuvenation, Orthodontic, Teeth Whitening, Injectables and more. We are committed to helping our patients achieve a beautiful and healthy smile that they can be confident with.
State-of-the-art Technology and Equipment

At Red Hill Dental, we invest in state-of-the-art dental technologies to provide our patients with the highest quality of care. Not only does this make your dental treatments much more comfortable, but it also allows us to achieve maximum results in as little time of possible, resulting in fewer appointments on your behalf. Our Paddington practice is equipped with technologically-advanced equipment such as:
3D Computerised CAD/CAM Technology
Intra-Oral Cameras
Zoom! Teeth Whitening
Dental Lasers
Digital X-rays
Digital Dental Implants
Explore Our Practice
Enjoy our interactive 360 view of our practice below. Contact our friendly team to book your appointment! We look forward to sharing the experience with you.
Ready for Your Best Smile?
If you would like to experience the Red Hill Dental difference for yourself, please schedule an appointment with our friendly practice today. CONTACT US

Red Hill Dental | (07) 3368 3555