Dental Implants at Red Hill Dental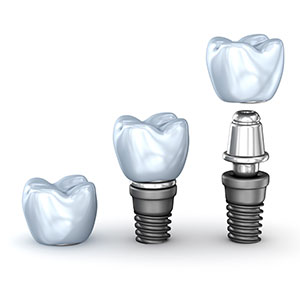 Do you hesitate to smile for photos due to missing teeth? Or perhaps you feel self-conscious about meeting people because of an imperfect smile. At Red Hill Dental, we offer dental implants that are an ideal replacement for one or more missing teeth. Durable, stable and long-lasting, dental implants look and function like natural, healthy teeth. They allow you to eat, smile, laugh and talk with greater confidence.
How Does an Implant Work?
When a damaged or decayed tooth is removed, both the visible part of the tooth (i.e., the crown) and the root are lost. A dental implant is placed in the jawbone so that it can fuse with your natural bone and becomes a strong and sturdy foundation for the replacement tooth.
Dental implants can be used to replace a missing tooth or restore teeth for implant-supported bridges or dentures. An implant can also help prevent healthy adjacent teeth from shifting when an empty space was left for an extended period.
State-of-the-Art Implant Technologies
Employing the latest in digital technology, the DIOnavi implant system removes the guesswork out of placing dental implants. Innovative computer-simulation enables our dentist to pre-determine the optimal and safest surgical route for each dental implant.
The benefit of this approach is avoiding the possibility of nerve injury or any other damage. Because much of the time-consuming precision work is executed during the planning stages, patients will spend less time in surgery, knowing that their implant placement is not only safe but accurate.
Flapless Surgery
A significant benefit of DIO implant placement is that it involves flapless surgery. So the following will be avoided:
An incision into the gum
Bone exposure
Screwing the implant down into it
Suturing up the flap
Advanced Keyhole Techniques
The DIOnavi system uses advanced keyhole techniques. That means the implant is placed through a small hole that has been pre-determined using state-of-the-art surgical guides. These are taken from data supplied by initial digital impressions.
Benefits of DIO Digital Dental Surgery
Much faster surgery times (typically just 10-20 minutes for 1-2 implants)
No incisions are needed so there is a decreased risk of any post-op infections
Bleeding or swelling rarely occur
A higher level of accuracy compared to free-hand surgery so less chance of any damage leading to complications in the future
By fostering an overall better experience for patients including quicker recovery times, flapless surgery creates a favourable scenario for those who may otherwise be hesitant to undergo any type of dental implant procedure
Dr Henry Ho – An Expert in Dental Implants
Possessing a Master of Clinical Dentistry in Implant Dentistry from Griffith University, Dr Henry Ho focuses on the clinical practice of oral implant restoration. An ideal implant patient will be in good general health, with healthy gums free of any disease. If you would like to find out more about dental implants, a consultation with Dr Henry will determine whether they are right for you.
Want to Learn More?
Contact us today! We offer convenient payment plans and our friendly, helpful staff is available to answer any questions you might have.
To see if Dental Implant is suitable for you, book a consultation with Dr Henry today!
Any surgical or invasive procedure carries risks. Before proceeding, you should seek a second opinion from an appropriately qualified health practitioner.

Dental Implants Paddington, Petrie Terrace, Red Hill, Kelvin Grove, QLD | (07) 3368 3555