All-on-4® Dental Implants at Red Hill Dental
Discover a Modern Solution to Missing Teeth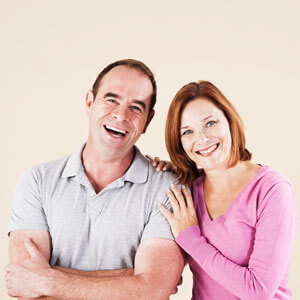 Red Hill Dental is pleased to offer patients the All-on-4 treatment, an innovative way to get a fixed full-arch prosthesis. All-on-4 provides complete oral restoration, allowing patients who lacked sufficient bone volume to now enjoy the benefits that dental implants offer. In the past, these patients may have been advised to undergo costly, time-consuming, and uncomfortable bone grafting procedures.
Dr Henry Ho has extensive training and experience within the field of implantology, so patients can feel confident knowing that they're in good hands.
How Does All-on-4 Work?
As is the case with traditional dental implants, All-on-4 uses four titanium screws that serve as artificial tooth roots. The procedure is different from a standard dental implant process in that the two posterior implants are tilted at a 45-degree angle. This tilting helps to overcome bone deficiencies that are frequently found in the back of the jaws, therefore preventing the need for bone grafting.
With All-on-4, an implant isn't required for every missing tooth. By using only four specially placed implants along the jawline, these serve as foundations for a full row of teeth. We use crowns and bridges to act as natural-looking prosthetics that feel and perform like your natural teeth.
The Benefits of All-on-4
At our office, we always put the oral health and smile needs of our patients first. That's why we only offer services and treatments that yield excellent results.
Here are some of the many advantages of this ground-breaking procedure:
Boasts a success rate of 98%, which is higher than traditional implant procedures
Aims to prevent the need for bone grafting
The procedure is relatively quick, with the total oral restoration being completed in under 3 hours (unlike traditional implantology which can take multiple appointments to finish)
Restorations look and function like natural teeth and are easy to preserve and clean
More affordable when compared to alternative implant treatment (e.g., receiving bone grafting and the placement of four implants)
Book a Consultation Today
If All-on-4 sounds like an ideal solution for your missing teeth dilemma, contact our Paddington practice to schedule a consultation with Dr Henry today!
CONTACT US
Any surgical or invasive procedure carries risks. Before proceeding, you should seek a second opinion from an appropriately qualified health practitioner.

All-on-4® Dental Implants Paddington, Petrie Terrace, Red Hill, Kelvin Grove QLD | (07) 3368 3555