SmileStyler® at Red Hill Dental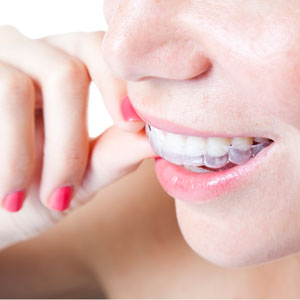 Would you like to align your smile discreetly, easily and effectively? With SmileStyler you can. This Australian-made aligner system can address an array of smile imperfections including crowded or crooked teeth, a crossbite, overbite or underbite, or a gummy smile. SmileStyler also has been designed to also enhance your facial features.
Because SmileStyler uses aligners versus conventional metal braces, you can remove them and eat the foods you want.
The Benefits of SmileStyler
Easy and convenient
Digital impressions are taken vs. bad-tasting physical impressions
No need to wear uncomfortable metal braces
Composed of premium quality materials
Designed and manufactured in the company's Melbourne facility using state-of-the-art software
What Does the Treatment Process Involve?
A consultation with one of our dentists who will determine if SmileStyler is right for you.
If you are an ideal candidate and wish to proceed, your dentist will use a 3D intra-oral scanner to create 3D digital images of your teeth. Those images will be used to design your perfect smile.
SmileStyler will devise a customised orthodontic treatment plan for you that will entail the precise movements of your teeth and the length of your treatment.
Once you and your dentist approve your treatment plan, SmileStyler will custom-create your clear aligners and deliver your first phase of aligners to your dentist within one week.
You will wear each set of aligners for the prescribed amount of time. They will gently move your teeth into the desired position.
FAQ
How long will I need to wear each set of aligners?
SmileStyler's Active aligners are usually worn for two weeks at a time or as prescribed by your dentist. Express aligners can be worn for just one week at a time or as advised. The advantage of Express aligners is they reduce your treatment time by up to 50%.
How often do I need to see the dentist during the treatment process?
As SmileStyler aligners ship in phases of six stages at a time, your dentist will perform a checkup and scan your teeth every six or 12 weeks, depending on whether you selected an Active or Express treatment.

The next phase of your aligners will be fabricated based on your checkup and new scan, ensuring that every aligner fits just like the first one.

Once you've completed all phases of your treatment, you'll be ready to show off your picture-perfect smile.
Book a Consultation Today
If you'd like to achieve a stunning, perfectly aligned smile, contact us to book a consultation with Dr Henry today!
CONTACT US

SmileStyler® Paddington, Petrie Terrace, Red Hill, Kelvin Grove QLD | (07) 3368 3555